There are plenty of nutritious, high protein vegan salads out there. Some of them can even be pretty delicious and provide enough protein to keep you going all day long. Luxurious, mouth-watering, and protein-packed, these are some of the highest protein vegan salads out there (that I could find).
Vegan diets not only benefit the environment, but they can be incredibly healthy and nutritious as well. One of the biggest issues vegans and dieters struggle with is getting enough protein in their diet. High protein vegan salads are the solution to this issue.
Vegan Diet and Protein
One of the hardest things about adopting a plant-based diet is making sure you take in enough protein each day. On top of that, it can be hard to find a good plant-based source of protein.
Vegan diets have been growing in popularity for a good reason. (If you are struggling with the vegan lifestyle but want to persist – check out our Tips for Beginners) High-protein vegan food is one of the best ways for vegans to diversify their diet. Eating high-protein vegan food such as salads provides many health benefits and can make up for any of the nutrients you may miss out on when not eating animal products.
Many people have trouble making their diet high in protein and low in fat. Although beans, legumes, and pulses are great for getting high protein, it can be quite challenging to find appealing vegan dishes that provide good protein amounts. One option is tofu, but sometimes the taste can be overwhelming. Beans tend to have less effect on flavor, but they are also trickier to cook with.
Everyone knows that there are high protein foods, but did you know you can have a salad as well? This article highlights some of the best protein intakes through a selection of convenient High Protein vegan salads.
How to Prepare High Protein Vegan Salads
Vegetables are one of the nutrients that we should include in a diet. The vast majority of them (green, yellow, violet) have low calories and lots of nutrients, so they're great for health. However, eating only salads can be boring sometimes, especially if you're a little bit on the chubby side (today, almost everyone is). So I want to tell you how to make high protein vegan salads that will quickly fill your stomach and satisfy you after you eat them.
We all want to eat healthier, and learning about eating high protein vegan salads is a great way to start! High protein vegan salads can be a great addition to your weekly meal plan. All you need are healthy ingredients and a recipe, and this article will show you how simple it is.
Five best High Protein Vegan Salad Recipes
Salads are a great way to start your day. They are packed with nutrients, antioxidants, and anti-inflammatory properties. They are also light and could be extremely good to help you lose weight if consumed as a meal. Oh, and they are delicious! A salad doesn't have to be boring; it can be an exciting dish packed with many surprises. The following high protein vegan salad recipes can be a good source of inspiration for your next healthy raw lunch or dinner meal.
Broccoli plus Quinoa Salad
Ingredients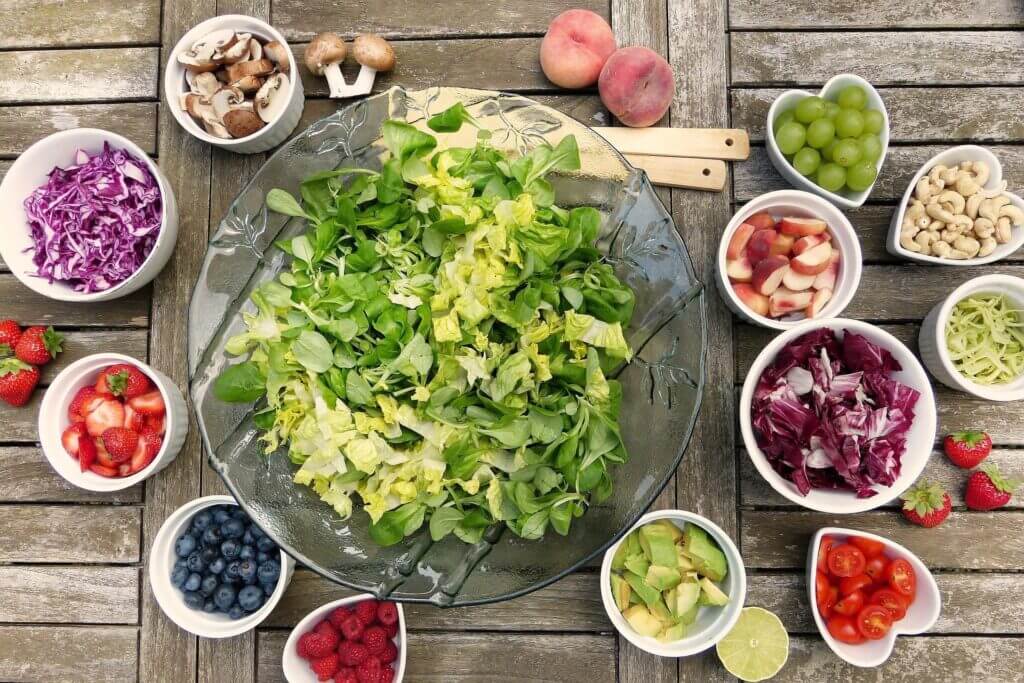 1 cup quinoa, dry
2 tablespoons olive oil
1/4 cup chopped red onion
4 cups florets broccoli
Half cup chickpeas
1 spoon of lemon juice
1/4 cup dill, fresh
1 tsp fresh Italian parsley
1/4 cup chopped sun-dried tomatoes
a small amount of sunflower seeds
season with salt and pepper to taste
Recipe
Cook quinoa according to package directions.
Over medium heat, combine the olive oil, red onion, and broccoli florets in a medium skillet.
Simmer for 5 minutes or until the vegetables are softened.
In a large salad dish, add quinoa, broccoli, chickpeas, tomatoes, red onion, fresh dill, and parley.
Add one lemon, freshly squeezed
Toss everything together.
Season to taste with salt and pepper.
Chickpea Salad
Fresh, tasty Greek Chickpea Salad is ideal for meal prep!!
Ingredients
15 oz. washed and drained chickpeas
2 cups diced Cucumber
1 sliced green bell pepper
1/3 cup halved grape tomatoes
20 kalamata olives or gaeta olives
1/4 cup lengthwise sliced red onion
4 ounces fresh feta, thinly sliced
Dressing:
2 fresh lemon juice
2 tbsp extra-virgin olive oil
2 tablespoons minced fresh oregano leaves
a quarter teaspoon kosher salt
to taste freshly ground black pepper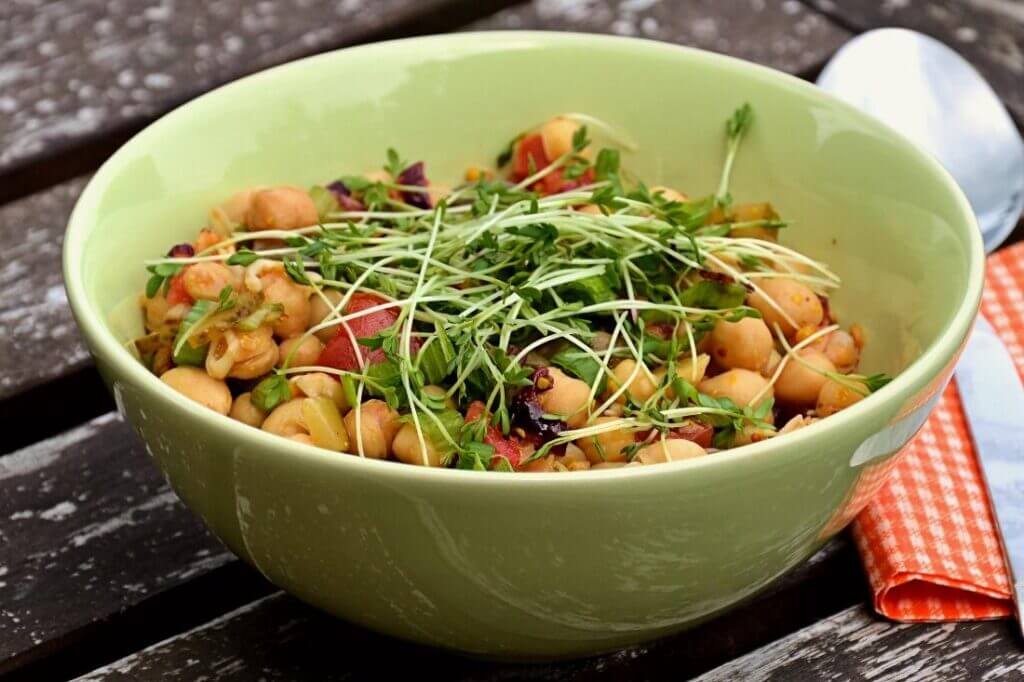 Recipe
Arrange 1/3 cup chickpeas, 1/2 cup cucumber, 1/4 green pepper, 1/3 cup tomato, olives, and red onion in the bowl, then top with Feta cheese.
Whisk together the lemon juice, olive oil, oregano, salt, and pepper in a small bowl. Add this dressing to the chickpeas bowl and serve.
Salad Bowl with French Lentils
The following ingredients are required to create French Lentil Salad Bowl with Basil and Sweet Peppers:
Lentils
Onion White
Red Sweet Pepper
Avocado
Chipotle Powder
Juice of lemon
Basil, fresh
Recipe
In a large mixing bowl, combine all of the ingredients and gently toss to blend. If you're meal preparing, add your avocado immediately before serving.
Serve at room temperature or cover and refrigerate for up to 2 hours before serving cold.
Salad with red quinoa, corn, avocado, and black beans
Ingredients
1 cup quinoa, red
2 cups veggie broth
1 can (15 oz.) black beans
1/2 cup frozen corn, roasted if available; thawed
1 ripe avocado, sliced into 1/2 inch slices
One medium cherry or grape tomato, halved
1/2 cup chopped cilantro
2 tablespoons olive oil
1 lime, 1/2 to 1 lime juice
Recipe
Before cooking, rinse the quinoa in cool water. In a medium saucepan, bring the quinoa and broth to a boil. Reduce the heat to a low simmer, cover, and cook until the liquid has been absorbed about 10-15 minutes. Prepare the other ingredients while the quinoa is cooking.
When the quinoa is done, take it from the fire and add the remaining ingredients. Toss thoroughly before serving.
Salad of Couscous with Roasted Vegetables and Chickpeas
Ingredients
1 pound carrots, sliced on the diagonal 3/4 inch thick
1 head (3 lbs) cauliflower, cored and chopped into florets
1/2 teaspoon cumin powder
three tbsp olive oil
coarse salt and freshly ground pepper
1 cup couscous (whole wheat)
1 teaspoon of lemon zest
1/2 cup freshly squeezed lemon juice (from 3 lemons)
1 can (15 ounces) of washed and drained chickpeas
6 finely sliced scallions
5 oz. baby arugula
Recipe
Preheat the oven to 450 degrees Fahrenheit.
Toss carrots and cauliflower with cumin and 2 tablespoons oil on a rimmed baking sheet.
Season with salt and pepper to taste.
Half of the vegetables should be spread out on a second baking sheet—roast for 25 to 30 minutes, or until browned and tender.
Meanwhile, bring 1 1/4 cup salted water to a boil in a medium pot. Cover and remove from heat after stirring in the couscous.
Allow to stand for 5 minutes or until tender. Set aside to cool, uncovered, with a fork.
Make the dressing: In a small mixing bowl, combine lemon zest and juice and the remaining tablespoon of oil; season with salt and pepper.
Combine roasted veggies, couscous, chickpeas, and scallions in a large mixing basin.
Drizzle 1 tablespoon olive oil over the arugula on a serving plate.
Finally,High protein vegan salads are a lot more delicious. In other words: creamy hemp dressing, roasted and seasoned chickpeas, and avocado (big surprise) over green leaf lettuce and a mix of veggies such as tomatoes and cucumbers are pretty awesome.