These snack boxes for remote employees are boosting morale and encouraging people to stay home with the help of these hunger-busting delicacies.
Thanks to the shift in most firms to work remotely, there's a great chance you've swapped the office break room for your kitchen or, better yet, have had to create a snack space at your makeshift desk. Every snack box we'll look at today should help keep that proverbial snack drawer fully stocked.
And here's an extra benefit. You know we're all about healthy eating here at EatsHealthy. As such, I've ensured I only included healthy snack boxes appropriate to everyone's dietary goals. All of them will keep your snacking habit in check without contributing to undesirable health issues in the long haul…. (and sometimes we all need a little treat too!)
With that in mind, here are the five best snack boxes for remote employees designed to help you get through demanding workdays in the spirit of better snacking.
1. Love With Food
Love With Food offers remote workers a themed collection of sweet, savory snacks curated from all over the world. 
Love With Food also pledges to source only all-natural and organic snacks made with natural, wholesome ingredients. That implies all their snacks are free of artificial coloring or flavoring, high fructose corn syrup, hydrogenated oils, and Trans Fats.
Past boxes I've received from the company have included snacks like Pomegranate Mint Chewing Gum, Organic Fruity Bears, Black Truffle and White Cheddar Popcorn, Restaurants Style White Bean Chips, Lemony Lover Olives, and even Smoky Chili & Lime Chickpea Snacks.
As a subscriber, you'll also have three distinct box options to pick from. These include Gluten Friendly (over ten snacks included), Deluxe (over 15 snacks included), and Tasting (over seven snacks included.) All these boxes are available for renewal each month and can also be purchased as three to six-month prepaid plans.
What else sets Love With Food Apart from its competitors? Well, through its partnership with Feeding America, the company donates at least one meal to an American Family in need for every snack box they sell. 
2. Nature Box
Also regarded as one of the first healthy snack box subscription companies, Naturebox boasts a membership model offering 20 – 40 percent savings on snacks that actually taste amazing. The company launched its Snacks From Home Program in 2020 after years of serving these delectables directly to corporate break rooms.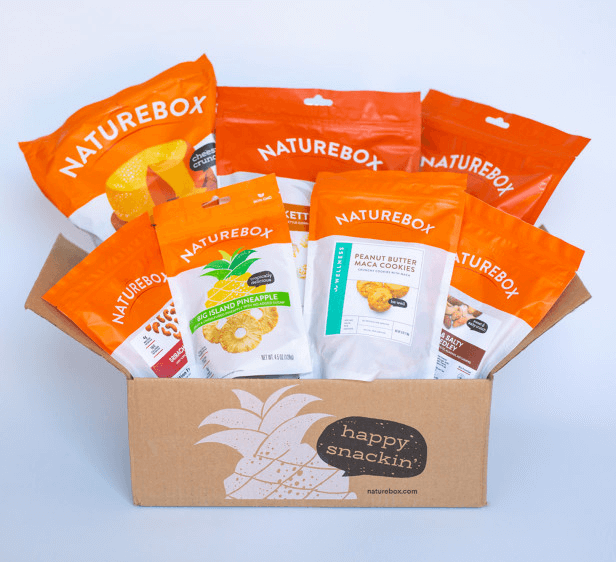 Extra advantages? Naturebox produces a majority of the snacks included in their boxes, and you can either try their box concepts or order individual treats (if you'd like to try them out first.) Even more interesting, they allow you to pick items based on an array of dietary restrictions, including non-GMO, vegan, sugar, protein, gluten, salt, and more.
The different themed boxes you can pick from include the Delightful Box, Less Stress, Sweet Treats, Bestsellers, and Everyone's Favorites. The variety of items available is equally staggering. These include natural fruit chews, jerky, single-serve oatmeal bowls, energy bars, dried fruit, pretzels, and more.
Note, though, that since NatureBox produces all these varieties, you'll be disappointed if you're looking for brand discovery.
An added unique selling proposition of Naturebox is that they offer corporate employees free annual memberships worth approx. $50. Under this program, companies are allowed to add credit to their staff's accounts, with an option to offer a monthly stipend they can spend on whatever snacks they prefer. 
Are you scouring the internet looking for snacks that can help you boost energy and reduce stress? Naturebox has still got you covered with their wellness snacks filled with adaptogens.
3. Universal Yums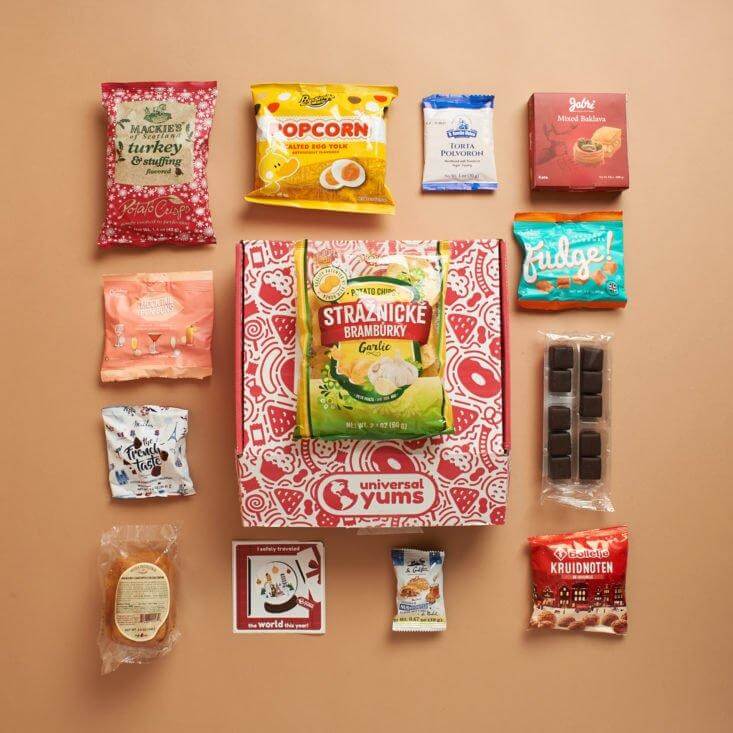 Here is your chance to send your taste buds on a trip around the world with a food box that sends you snacks from different nations each month. In addition to the delicious assortment of international snacks, Universal Yums' snack box also arrives with a robust booklet filled with recipes and trivia from the nation the snacks are from.
A box I recently acquired from the company featured treats from Egypt. The box included hazelnut cream and milk chocolate wafers, lemon chili potato, date jam biscuits, and more. Other boxes my friends have received have featured the Philippines, France, Brazil, Scandinavia, the United Kingdom, and even Thailand.
Give Universal Yums a chance today and taste the adventure.  
4. SnackMagic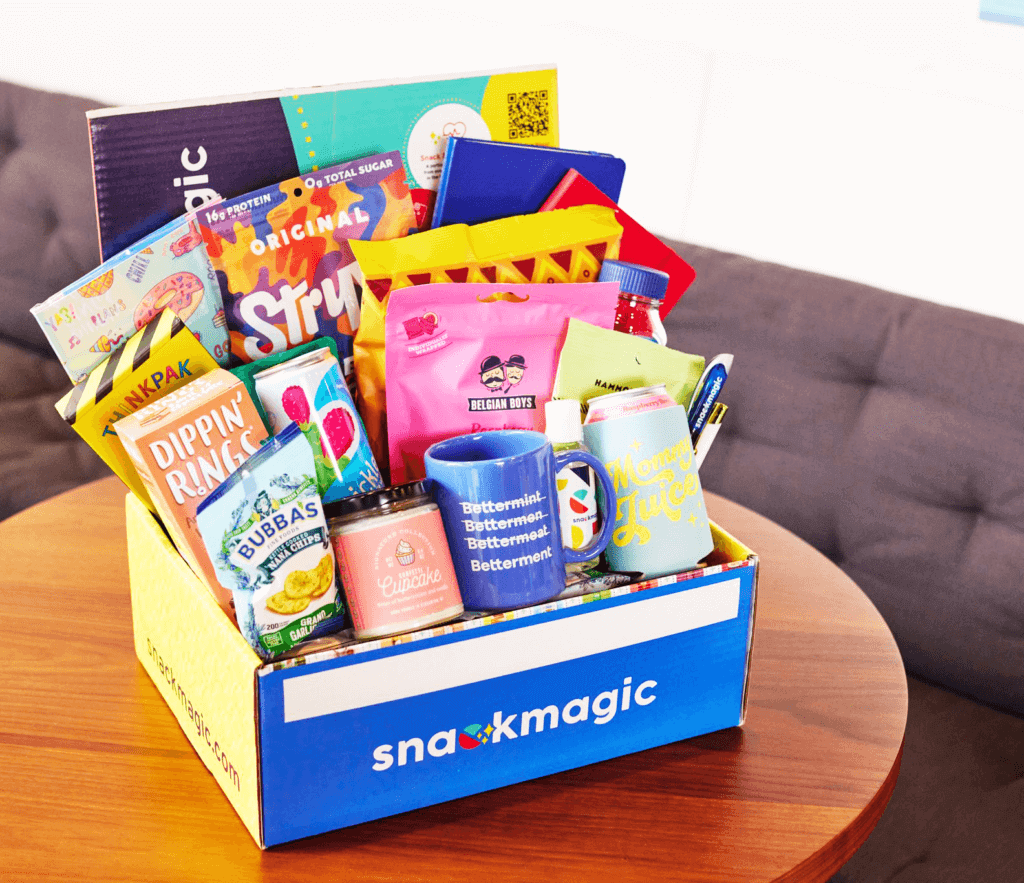 Any guide on snack boxes would be incomplete without SnackMagic. This firm stands out in this sector because it allows customers to curate their boxes. You can pick from 500 different snacks to create a package that's unique to you. Snacks you can choose from include drinks, bars, nutritious options, chips, and sweets.
SnackMagic also offers plenty of keto, dairy-free, vegan, and gluten-free snacks among its selections. My favorites are the birthday cake bite-size cookies, toasted corn crackers, and honey-mustard mini pretzel twists.
5. Candy Club
If you have a bit of a sweet tooth, Candy Club's snack boxes solely exist to bring something sweet your way each month. Once subscribed, you're allowed to create or update your taste profile, which Candy Club uses to know whether to send you a mostly sour, sweet, or a mix of delectable candies. Membership periods range from one to six months.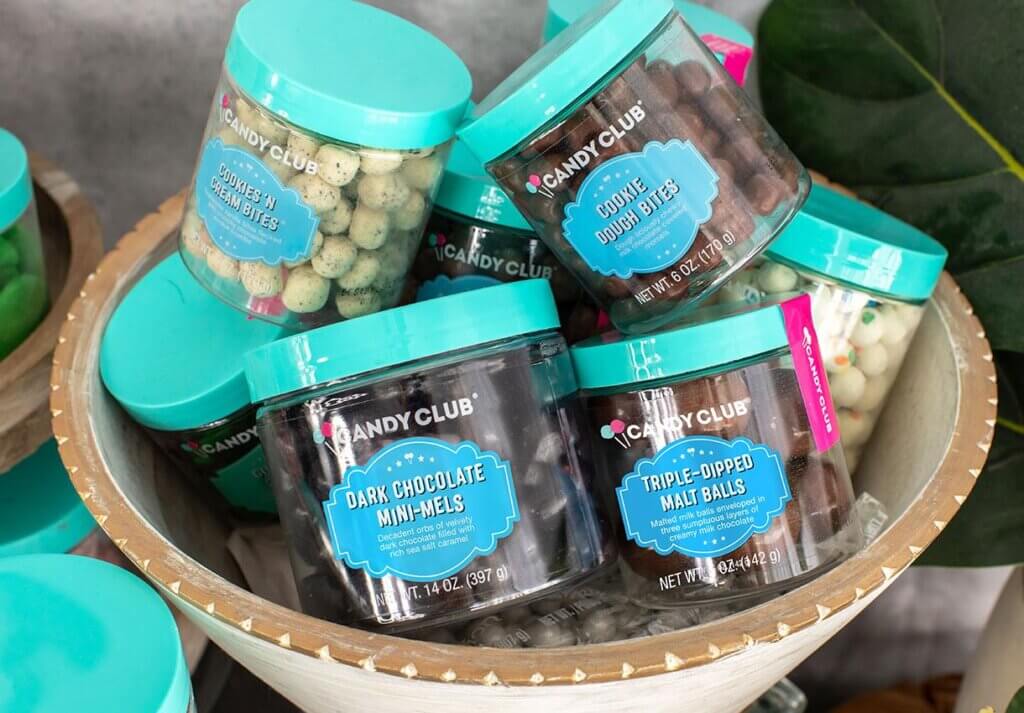 Furthermore, Candy Club packs a wide array of premium candies in all their boxes, which range from fun bites and chocolates to gummies. Snacks you can choose include Chocolate Pretzels, Gummy Dinosaurs, Chocolatey Caramel Corn, Sour Strawberries, Lemonade Straws, and Cookies 'N Cream Bites.
Candy Club boxes also boast two distinct sizes: a party box containing 13X6 oz. candy cups and a fun box, which holds six of the same.
I could only find two downsides with Candy Club's snack box. First, you cannot select the exact candies you want to be included in the package. This shouldn't be an issue if, like me, you love surprises. The second downside is Candy Club doesn't allow its clients to choose either all sweet or all sour candies. 
Conclusion
We all have different snack preferences. Some of us prefer salty, crunchy options, whereas others would rather go for sweet treats. I understand that, so I ensured I chose snack boxes that'll appease any snack addict out there.
I've even included an option here that will send you international favorite or rare snacks (including snacks you've probably never heard of before). So, anytime your stomach starts growling amidst work, treat it to any of the best snack boxes for remote employees described above.