I have to admit that the words 'high protein vegetarian salad' were not in my vocabulary until several years ago. Becoming a vegetarian by trying to quit any kind of meat is not easy for people who have eaten and tried almost everything their whole life. But I decided to slowly give up on meat and start taking care of my meals more carefully. It wasn't out of the blue, but the fact that vegetarianism proved to work perfectly for other people – so I had to give it a try.
It would be a struggle if you became a vegetarian maybe 10-20 years ago, but nowadays there are so many options and a lot of people decide to adapt to a veggie diet. We will go through five high protein vegetarian salads that are tasty, quick, and most importantly contain natural ingredients so you don't have to add any protein powder. Dressings are a good addition to these salads because they are healthy and they make salads tasty, but of course, they are not essential.
1. Grilled Halloumi Broccoli Salad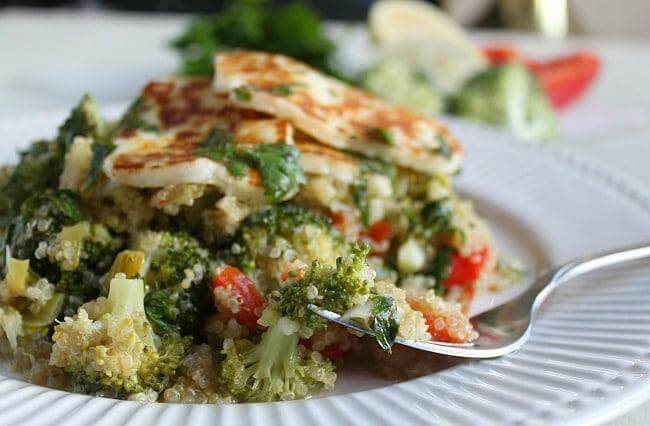 Recipe by: Ne Quid Nimis
Halloumi is a cheese made from sheep's milk and a great source of calcium. A portion of 80 grams supplies your body with your daily calcium needs which maintains the health of your muscles, nerve function, bones and teeth.
Broccoli has plenty of benefits and just like everybody says, you have to eat your greens daily. Broccoli is full of minerals and vitamins good for your heart, immune system, hormonal balance, and eye and skin health.
This salad contains 22g of protein per serving and 600 calories. And it's ready in 15 minutes! For two people, you will need:
1 cup fresh salad
200g halloumi cheese
½ avocado
1 cup broccoli
½ cup quinoa
2 Tbsp olive oil
2 Tbsp lemon juice
You can start by washing and drying your salad. Slice an avocado into small cubes. Add some water to boil in a pot for the broccoli and prepare it according to your preferences (crunchy or soft). Put half a cup of quinoa into a pot with one cup of water and leave to boil for about 7-8 minutes. Once your broccoli is ready, prepare your grill pan for the halloumi cheese. Grill the halloumi and broccoli for about 6 minutes and make sure you flip the halloumi over to cook evenly. When the halloumi, broccoli and quinoa are ready, put everything into a bowl and mix well. Add olive oil and lemon juice and enjoy!
Looking for more ways to cook halloumi and broccoli? You can find more recipes here.
2. Black Bean Lentil Salad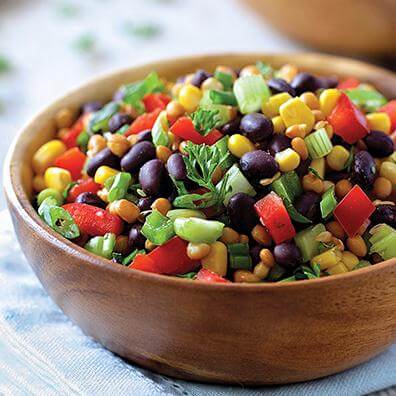 Black beans are rich in antioxidants, vitamins and minerals. They contain high protein and fiber which help lower your blood pressure and promote a healthy digestive tract.
Lentils are perfect for those who are looking to boost their protein intake. They are low in fat and calories and also a great gluten-free option. Lentils are an amazing source of B vitamins, zinc, iron and magnesium.
This salad is a personal favourite and I have tried to adjust it according to my own preferences. You can use canned beans and lentils if you want to make it in under 10 minutes. For two people, you will need:
1 can green or brown lentils
1 can black beans
10 cherry tomatoes
1 red onion
½ cup fresh parsley
½ tsp ground cumin
½ tsp sweet paprika
Dressing: you can use either tahini (sesame paste) or lime juice and olive oil
You can change it up according to your own favourite flavours and dressings. This recipe is very filling and satisfying because of the protein in the beans and lentils. You just need to rinse the canned beans and lentils and wash and chop the rest of the vegetables. Avocado and cucumber are some delicious additions to this salad. I was able to store this salad in the fridge up to 5 days – so don't worry if you have any leftovers.
3. Curried Carrot Slaw with Tempeh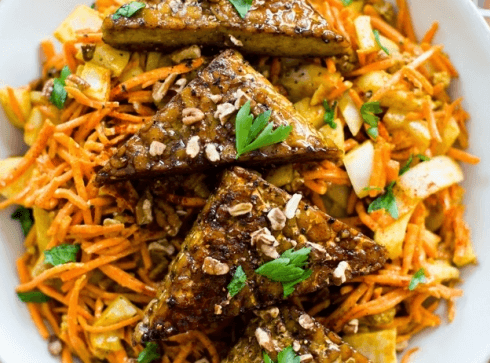 Recipe by: lunchboxbunch.com
Carrots are root vegetables rich in antioxidants, vitamin A, K and calcium. They lower your diabetes risk and strengthen your bones.
Tempeh is a traditional Indonesian food made from fermented soybeans. It is very nutritious and it provides protein, potassium and iron. Store-bought tempeh doesn't need to be cooked unless it's unpasteurized.
For this high protein vegetarian salad, for 4 people you will need:
400g tempeh triangles
4 cups shredded carrots
1 onion diced
1 Tbsp extra virgin olive oil
2 tsp soy sauce
1 Tbsp curry powder
½ tsp black pepper
2 Tbsp tahini
¼ cup fresh lemon juice
1 Tbsp crushed raw walnuts (optional)
Add the tempeh triangles into a grill pan and cook for about 5 minutes. Don't forget to flip them over a few times until they are browned and all liquid absorbed.
In a large bowl, add the carrots, tahini, lemon juice, onion and spices. Toss well in order to marinate the carrots with the dressing and top with the tempeh a
nd walnuts.
This high protein vegetarian salad has only 263 calories and 14g of protein per portion.
4. Tofu Amaranth Salad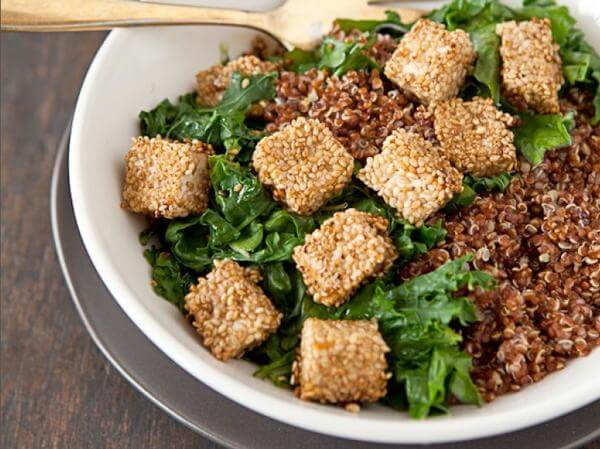 Amaranth is a gluten-free grain or a pseudo-cereal that contains a lot of protein, fiber and micronutrients. Similar to quinoa and buckwheat, amaranth can be used to make breads, pancakes, soups, salads or stews.
Tofu is made from curdling soy milk and it is low in calories but high in protein. It is gluten-free and is an excellent source of calcium and iron.
For this salad, you can use any dressing you want, from dijon mustard or tahini to lime juice and extra virgin olive oil. It takes 15 minutes and for 4 serves you will need:
400g tofu
1 cup amaranth
200g spinach, kale or other greens chopped
½ avocado chopped
1 cucumber chopped
½ cup lime juice
¼ cup sesame seeds
1 Tbsp extra virgin olive oil
1 tsp cumin
1 tsp salt and pepper
Slice the tofu into small cubes and cook them for 5-7 minutes. When cooked, roll the tofu cubes in sesame seeds and coat all the sides. Boil the amaranth in 2 cups of water and stir until the seeds pop. Drain the amaranth and put it into a bowl.
On top of the amaranth, put the chopped greens, avocado and cucumber with spices, lime juice and extra virgin olive oil. Mix well and top with tofu. Serve with additional soy sauce or tahini for a creamier texture.
5. Black and White Bean Quinoa Salad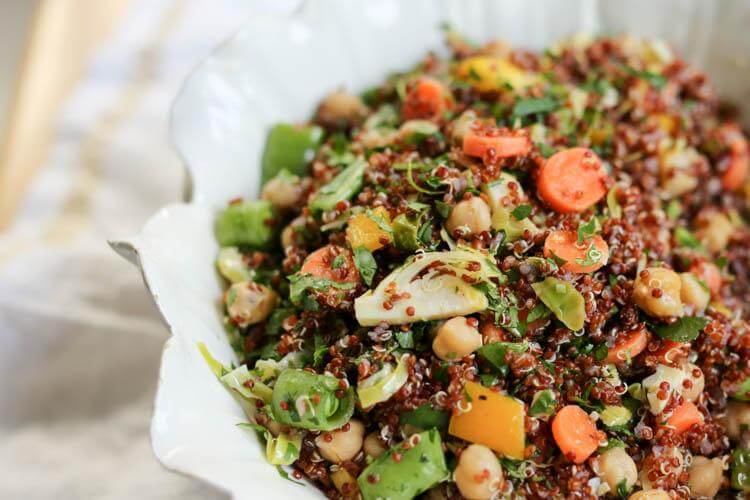 Quinoa is a pseudo-cereal in the amaranth family packed with protein, B vitamins, zinc and iron. It has a nutty flavour and it can be used instead of rice or couscous, making it perfect for any meal.
If you are looking for a high protein vegetarian salad, the black and white bean quinoa salad is super delicious and filling and is packed with protein. This recipe was inspired from Vegangela, but I upgraded it according to my preferences.
This takes about 20 minutes to make and it contains 4 portions. You will need:
½ cup quinoa
1 can black beans rinsed and drained
1 can white beans rinsed and drained
1 cup diced cucumber
½ cup diced red onion
10 cherry tomatoes
1 cup diced red bell pepper
½ avocado
½ cup chopped fresh parsley
2 Tbsp extra virgin olive oil
2 Tbsp lime juice
½ tsp dried oregano (or any spices/herbs: cumin, paprika, coriander etc.)
1 tsp salt and pepper
½ cup tahini (sesame paste)
Cook the quinoa for about 10-12 minutes until tender. Drain and rinse. In a large bowl, add quinoa, black and white beans, cucumber, onion, tomatoes, red bell pepper, avocado and parsley and toss to combine.
Add the extra virgin olive oil, lime juice, oregano, salt and pepper and mix well. For the last step, you can top it with your favourite dressing. And voila!
Conclusion – Top High Protein Vegetarian Salads
These 5 high protein vegetarian salads are my favourite and they are a source of protein, vitamins, minerals and antioxidants that fuel your body with energy. They are super healthy and easy to make. These salads can be eaten for breakfast, lunch or dinner, as snacks, meals or side dishes and your whole family can enjoy them. And most importantly these delicious salads dismiss the idea that high protein vegetarian salads are a boring food option. Enjoy!