(This is also vegan salmon)
We've all seen it – TikTok users across the globe recreating one of the most popular recipes in recent months consisting of a Japanese inspired rice bowl with fresh salmon, seaweed, sriracha, kewpie mayo, and a variety of fresh vegetables that almost looks too good to be true, but what about a vegetarian substitute for salmon? There's no doubt that salmon has risen to the top of the food chain as one of the most nutritious, protein rich meal options and that's why vegetarians across the globe are looking for tasty, meat free alternatives to this popular seafood.
Over the past several decades, innovative plant-based options have risen to the forefront of the health food industry as consumers become more aware of the ethical, environmental, and health benefits of a plant-based lifestyle. With the increased popularity of plant-based living and high demand for plant-based alternatives, you can find a vegetarian or vegan substitute for almost anything from beef and poultry to cheesecake and ice cream. To find a healthy vegetarian substitute for salmon, check out these three unique options that may surprise you!
Vegan Tomato Salmon
It may seem crazy at first, but tomatoes actually make an ideal vegetarian salmon substitute when prepared correctly. Although the tomatoes tend to hold more moisture than you would find with real salmon, they also soak up plenty of marinade, making them the ideal choice for creating a meatless smoked salmon.
What You'll Need
What you will need on hand for this recipe really depends on what you'll be using the tomato salmon for. For a mild flavor, all you really need is fresh Roma tomatoes, soy sauce, and rice vinegar for the marinade. For those looking for a more flavorful or smoked style recipe, you may want to add extra ingredients to your marinade like liquid smoke, sake, or kale granules to give it that extra added seafood flavor.

How to Prepare the Tomatoes
Preparing tomatoes to use as a salmon substitute is as simple as boiling a pot of water! The first step to preparing these veggies is to bring a pot of water to a boil, then cut a slit in the bottom of the tomato. Once the water is boiling, drop the tomatoes in and let them boil until the waxy outer layer begins to peel. Once this happens, remove the tomatoes from the boiling water and immediately dump them in an ice bath to prevent further cooking. Once cool, remove the peels from the tomatoes and they're ready for use.
How to Use It
This meat free salmon substitute is ideal for sushi nights as it can easily be used to make a sushi roll, sashimi, or even poke bowl. It tastes so real, you might even surprise some of your meat-eating friends! (Here are some extra hints for those wanting to convert to veganism too!)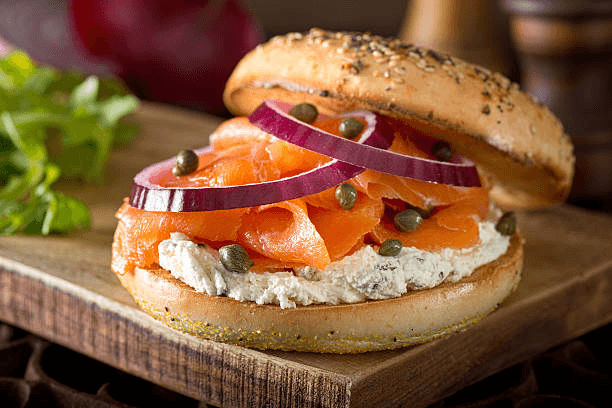 Carrot Salmon Substitute
Carrots are another popular vegetarian salmon substitute that's great for people looking to incorporate more meat free options into their diet. When using a vegetable peeler or mandoline slicer to cut carrots into paper-thin strips, the texture of this vegetable is almost identical to that of real salmon, making them ideal for soaking up marinades to use as a lox substitute.
How to Prepare a Carrot Salmon Substitute
The best way to prepare carrots for use as a salmon substitute is by slicing the carrots as thinly as possible to mimic the texture of traditional salmon. First, start by roasting the carrots in salt until they are slightly soft, but still able to hold their shape. Next, peel the carrots before thinly slicing them lengthwise. The carrots should be thin enough that when held up to the light, you can almost see through the center portion. Once sliced, the carrots are ready for the marinade and to use as a smoked salmon substitute.
Making a Smoked Salmon Marinade
As carrots are a reasonably bland vegetable, it would be impossible to get the taste of real salmon without using some form of marinade or seasoning. One of the best vegan smoked salmon marinades consists of a mixture of hot water and a variety of traditional marinade ingredients like rice wine vinegar and soy sauce as well as some additional items like caper brine and miso paste. Simply combine all of these ingredients and marinate the carrots overnight (or longer for a more hearty flavor) to achieve a taste and texture that's as close to real salmon as you can get!

The Best Way to Enjoy Vegan Smoked Salmon Carrots
Once the carrots have spent plenty of time in the marinade, they're ready to be enjoyed anyway traditional smoked salmon is used. Try making your own vegan lox bagel with all the fixings or eat them straight out of the jar as a healthy snacking alternative.
Vegan Jackfruit Salmon Substitute
The uniquely meaty texture of this tropical fruit has made it a popular vegan substitute for many traditional meat dishes like barbeque pulled pork, tacos, crab cakes, and more. As an item previously only found at Asian markets and specialty food stores, the newfound popularity of jackfruit has made it more readily available at stores worldwide. Shoppers can now find tons of jackfruit options like fresh fruit, canned jackfruit, or even marinated jackfruit options like those from the Upton's Naturals company. The meaty texture combined with high absorbency make this option the ideal meatless option for seafood lovers.
Where to Find Jackfruit
Previously only available at specialty shops, this newly popularized fruit can be found at almost any major grocery chain. Most often, canned jackfruit can be found in the health food section, but marinated jackfruit options are often found in the refrigerated section along with other vegan meat substitutes. If you've searched high and low for jackfruit at your grocery store and are still unable to find it, search for Asian markets or specialty health food stores in your area as these shops are almost always guaranteed to keep this item in stock. Additionally, canned jackfruit may be available from online retailers like Amazon that ship right to your door.
How to Prepare a Vegetarian Jackfruit Substitute
Preparing a vegetarian jackfruit substitute is super simple and doesn't even require any cook time! All you need for this recipe is a can of young jackfruit in water or brine and marinade ingredients including a variety of traditional marinade ingredients found in most kitchens along with a few special ingredients like white miso paste and beet powder. Simply combine the marinade ingredients in a blender and blend until smooth. Squeeze the marinade through a cheesecloth and into a bowl then add the drained jackfruit. Allow the jackfruit to marinate for at least 8 hours then it's ready to be used as a vegan flaked salmon substitute for a healthy vegetarian substitute for salmon when creating the famous TikTok recipe!